Is your vehicle pulling to one side of the road? Are your tires wearing out unevenly, or more quickly than normal? If you answered yes to either of these questions, your vehicle may be in need of a wheel alignment.
The Auto Hospital performs laser wheel alignments using state-of-the-art equipment. Laser alignments offer unsurpassed precision and accuracy that other wheel alignments cannot deliver. We invite drivers of 4WD and all-wheel drive vehicles in Hanover, MA, Norwell, MA, Marshfield, MA and surrounding areas to visit us for service.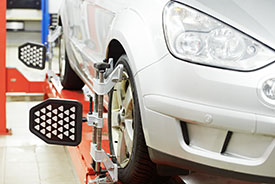 A four-wheel alignment reduces tire wear and straightens your vehicle, so you're not pulled to the left or right while driving. A wheel alignment is an important maintenance service that fixes the angle of your tires and wheels after pot holes and curb sides alter it.
WHEEL ALIGNMENT BENEFITS HANOVER, MA
Having a wheel alignment done on your car offers many valuable benefits to you as a driver. Some of these include:
Your car's tires will last longer
Improved fuel economy
Better vehicle handling/performance
Safer vehicle operation
If you're around Norwell, MA, stop over for a wheel alignment. This service can save you money in the long run and make driving safer for you and your passengers.
Not only do laser wheel alignments make your car drive better, they may make your vehicle safer for you and your passengers. If your car needs an alignment, it may become more difficult to control. This can potentially lead to an inability to control your vehicle. Avoid tragedy—get a laser wheel alignment for your vehicle today.
Learn more about wheel alignments.
FANTASTIC ALIGNMENT PRICES
Nothing beats getting professional service at a generous rate, so we offer our four-wheel alignment services at competitive prices. Contact us to learn more about our laser wheel alignment services, or to schedule an appointment today.
CONTACT FORM